Familiar issues plague Giants in '19 opener
The 2019 baseball season officially kicked off it's full slate of games on Thursday, including the Giants opener in San Diego. However, despite the fresh new start, the Giants ran into the same problem that's been at the heart of the team's failures the last few seasons as they once again just couldn't muster much of anything offensively.
While the starter the Giants went up against is certainly a quality major league arm, Eric Lauer was easily one of the more underwhelming MLB starters to get the call Thursday, which makes the Giants' five total hits with zero going for extra-bases especially tough to swallow. On a day when great left-handed starters kicked off their respective squad's seasons, Laurer had arguably the best showing of any of them, thanks in large part to the Giants lack of ability to do anything at the plate. They not only had a tough time finding holes in the Padres defense and getting hits to fall, but they simply didn't swing the bat well and for the most part weren't making good consistent contact. The only guy that looked inspiring Thursday afternoon, and someone who I'm expecting to have a huge bounce back season is third basemen Evan Longoria. The veteran third basemen was the only Giant hitter to have a multi-hit game, and was one of only 3 position players to get a hit off Padres pitching in the opener, as one of the team's five hits and perhaps one of the hardest hit balls by the team all day came off the bat of Madison Bumgarner.
The Giants had some opportunities getting guys on with the heart of the order coming up but they were never able to cash in. Again, this is an area which has been a concern for this team for multiple seasons now, and despite them not doing anything over the winter to upgrade, they did draw up some optimism with a pretty loud spring at the dish. As well all know though, spring training means literally nothing in terms of production once the games start counting for real, and if Thursday was any indication, it's going to be another long season by the bay unless the team can figure out some way to get some offense going outside of the thin air in Arizona.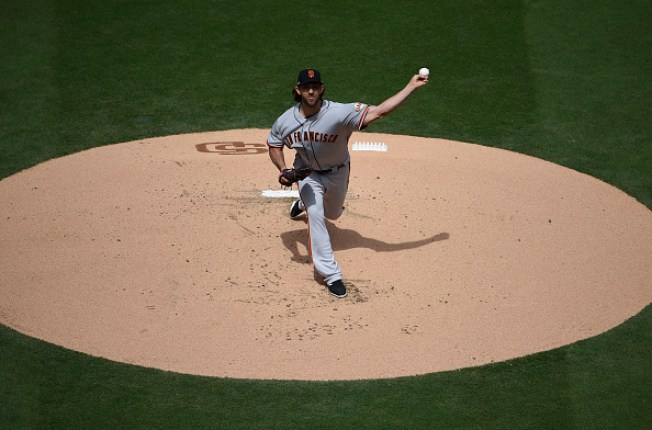 Fortunately for the club though, it wasn't all bad news coming out of the 0-1 start. The biggest bright spot was obviously Madison Bugmarner's performance, going 7 strong innings, allowing 2 runs on 5 hits while punching out 9. In what I expect to be MadBum's final year, an maybe final months, in San Francisco, the better he does between now and the trade deadline will only increase his value. Now, hopefully the Giants find some offense to help support some pretty impressive pitching depth and I'm wrong about Bumgarner's eventual exit from San Francisco, but if this team isn't contending by July, you can surely bet that Farhan Zaidi will be entertaining any and all offers for the Giants' ace. And for a guy who many worried was on the downswing after an injury dismantled his 2018 season and turned it into his worst as a big leaguer, it was indeed refreshing to see him look the part of a true Thursday.
I don't think anyone who follows this team or follows the game of baseball with any regularity expects them to be a playoff team or even a .500 team, but all we can hope for is progress and excitement. I want to be able to see things transpire this season that will have me amped for 2020 and beyond. Trotting out the largely veteran lineup day after day, if they continue to perform like this, certainly wouldn't be a move in that direction. I know it's only one game, and nobodies gonna write the book on the season after a day, or even after a month or two, but this pattern of no offense to go with solid pitching and defense is going to get old very quickly for Giants' fans if this is a sign of things to come.
Extras:
The Giants ended up traveling to San Diego with a bit of an awkward roster to kick off the 2019 campaign. They have limited bench and outfield options, which prompted them to start two guys in the outfield who probably wouldn't have made many other teams out of spring, and if you ask me, that's an area where they should start rolling the dice with younger players in their system come late May if things are stagnant. For example, Chris Shaw may only hit .220 at the big league level out of the gate and will strike out every a third of the time but I'd rather see a guy who at least has a chance at becoming a future regular then guys who we know don't factor into the future of this team... Another case I'm still a little confused on is the decision to release Mac Williamson when this team lacks potent right-handed bats... As far as the logjam in the bullpen, I think they made the correct decisions in who to open the season with. Trevor Gott and Travis Bergen are two guys I'm especially stoked to see throw this year as I believe he can become a mainstays along with Reyes Moronta moving forward.
_________________________________________________
The Giants Baseball Blog
_________________________________________________